Did you know that the man who founded J.C. Penney had "Cash" for a middle name?
It's actually James Cash Penney. But his philosophy wasn't so much about cash or pennies. It was actually about gold. The Golden Rule that is.
In order to invest and expand, James Cash Penney was tight with his money, not wanting to waste string or overuse paper, noted retired sales associate, Olga Kirkwood, who worked at the original Kemmerer, Wyoming store for a quarter century until 1981. But Penney's first priority was to treat customers the way they would want to be treated. In fact, the first store he managed was not originally named J.C. Penney, but the Golden Rule Store, named by the original owners who saw the potential in Penney. In time, he would purchase full interest and would grow the stores to 1,660 in North America by the time Penney died at age 95 in 1971.
From that early foundation came the Penney Idea. The Penney Idea was adopted at J.C. Penney's first company convention in Salt Lake City, Utah, in 1913. There were 36 managers attending out of the chain. Together they penned the following, which seems to have stuck to today: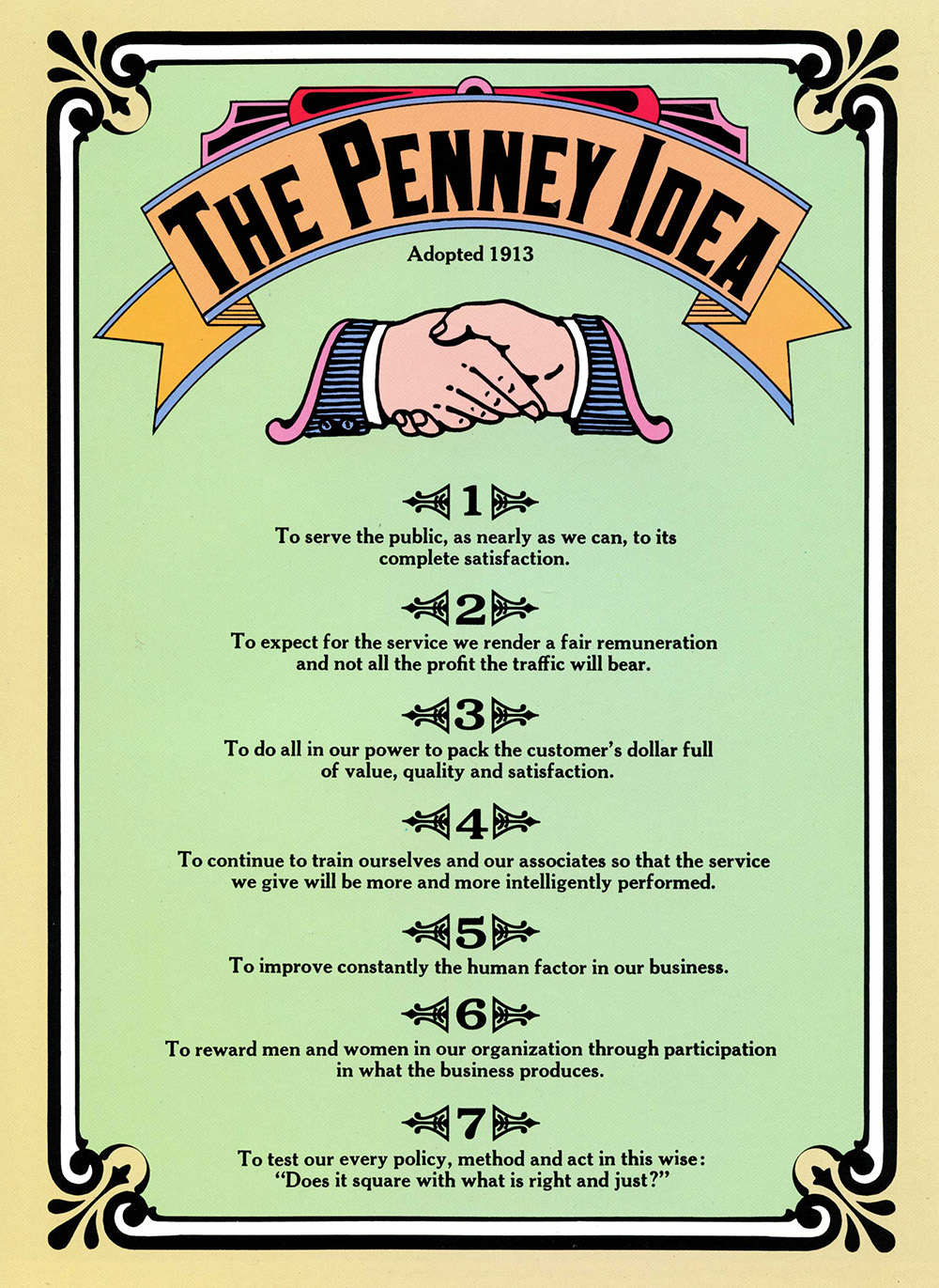 Those are pretty good ideas if they've stayed intact since those early days. But have they? J.C. Penney is in turbulent times from the growth it knew in past decades. In 2015, some 39 stores were closed along and 2,250 employees were laid off. The company's new CEO, Marvin Ellison, has sought to move the chain back on track. On what it takes to do that, he had this to say:
"The company kind of lost its way," Ellison said. "One of the greatest mistakes made by the previous leadership was they stopped listening to the customers. It's always a challenge to win customers back, especially when you walked away from them. There will be business cases, lectures done, and books written about some of the mistakes made at JCP during that really, really tough transition. Having said that, what a great time to be here."
The proof is in the pudding as to whether J.C. Penney is truly listening to its customers. It is the secret whether you're trying to make cash, gold or "Penney's".