No More Fly-By-Night Training!
Feel like the last training you received came and went? We at World Class Benchmarking offer something different:
Choose From A Variety of Topics. Our content provides comprehensive coverage of every significant topic that creates world-class success: From customer service to leadership; from developing critical thinking skills to managing for performance accountability; from motivational keynotes to team building actives, we provide proven solutions that take your operation to the next level.
Customize Your Own Unique Programming. We can integrate existing content and processes from your organization with the content and activities our programs provide for a completely customized experience. We frequently do up front analysis and site inspections. We then craft the solution to meet your needs. As instructional designers, we can even work with your subject matter experts to develop a program or workshop that's uniquely yours. Then we can deliver it in a variety of learning formats that best suit your organization's needs.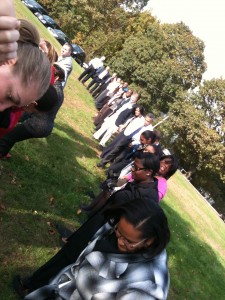 Co-Facilitation. Our facilitators have presented to hundreds of different Fortune 1000 organizations, so we're happy to let you sit back and enjoy the program while we deliver it. Another option is for us to work with your leaders and/or facilitators to present the program together. In addition, we can provide train-the-trainer support so that your own front line personnel can deliver the message themselves.
Consulting and Continuing Support. Because sustainable cultural change doesn't happen overnight, we offer extended support in bridging our learning solutions back to your organization in a way that significantly improves results over the long haul. Our expertise is as much in helping organizations to generate long-term results over time as we are about providing really great program experiences. We can help you in a variety of ways with pre- or post-program support–from executive coaching to helping create tactical application teams.
In short, whether it's classroom programming or online learning, whether it's our off-the-shelf content or your own, whether we provide it ourselves or help your own people deliver it, World Class Benchmarking is the best solution for supporting your success.