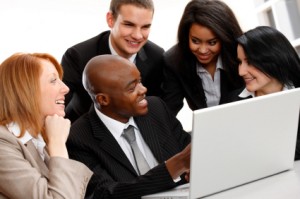 Beyond our successful Leadership In Excellence program, we often get requests to provide basic management skills to new managers or to those who are needing something more foundational. Our Managing for Success program includes the following topics:
Getting Down To Work
This unit is about planning your work, and working your plan. Included are the following topics:
Setting S.M.A.R.T. Goals
Managing Your Time. Managing Your Priorities
Making Decisions and Following Through
Project Management Basics
Aligning Your Work With Others
Working 1:1 With Team Members
It's important that managers fully utilize the employees who they are responsible for. Here we look at the following:
Hiring & Training Fundamentals
Setting Clear Work Expectations of Employees
Providing Support & Feedback
Interviewing People
Recognizing the Work of Others
Working With The Entire Team
The success of a department is based on how effectively the team works together. Managers must orchestrate the work of those teams. That includes looking at the following:
Organizing Your Team
Team Dynamics
Engaging The Team
Solving Team Problems
Building on the Strengths of Others
Managing Conflict
While conflict happens, managers need to know what they can do to proactively prevent it from becoming a bigger conflict, as well as know how to respond when it does fire up. That involves looking at the following:
Types of Conflict
Preventing Conflict
Do's and Don'ts in a Conflict
Overcoming Objections
Working With The Attitude of Others
Managing Stakeholders and Getting People to "Yes"
Communicating With Others
Being an effective communicator is essential to being an effective manager. The following examines what that requires:
Who, What, When, Why & How of Communicating With Others
Aligning With Your Supervisor
Collaborating With Other Teams
Listening to Others
Holding a Meeting
Making a Presentation
These topics and more can be combined with our other leadership programming options to create a tailored program for your organization.
Contact us
today and share with us what your needs are and how we can take your organization to the next level.