In consulting with organizations, we often highlight the importance of reward and recognition to the culture. Disney has been doing this for many years in a variety of ways. Here's a snapshot at where various programs that impact those who work at the Walt Disney World Company.
Disney Legends
This is the highest honorary acclaim given to outstanding individuals who have contributed in some way to any segment of the Walt Disney Company. This is not limited to just Walt Disney World, but to the entire corporation. Still, many of the most important leaders and pioneers that shaped Walt Disney World and the rest of the park and resorts division are memorialized as a Disney Legend. Comparable to a life time achievement award, these individuals are usually presented their awards during the D23 Expo. Like footprints at Grauman's Chinese Theater, Disney Legends are memorialized with their handprints.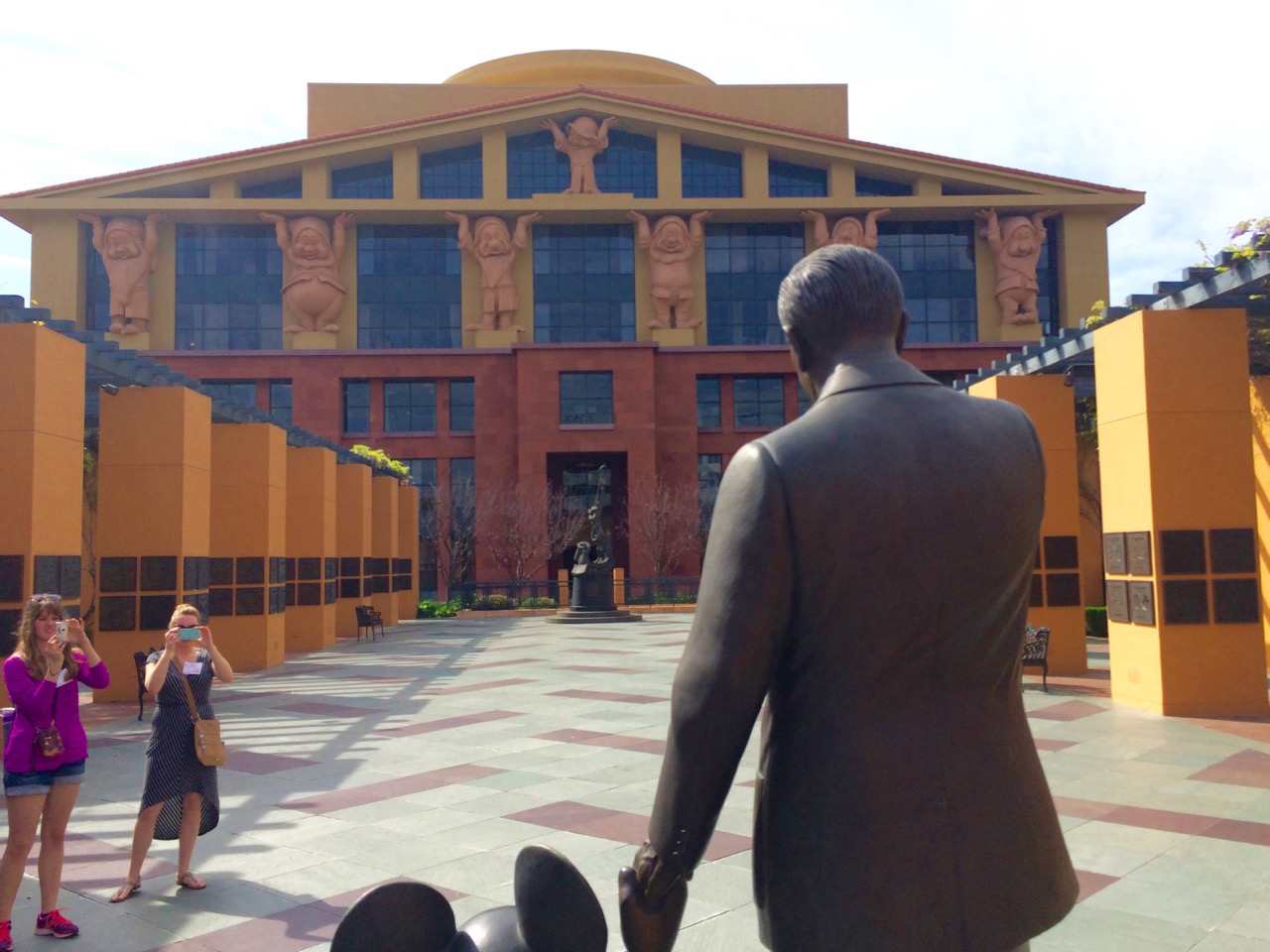 Those handprints are bronzed and then displayed in the Disney Legends Plaza at the Walt Disney Studios in Burbank. Here is a close up of one of the handprints: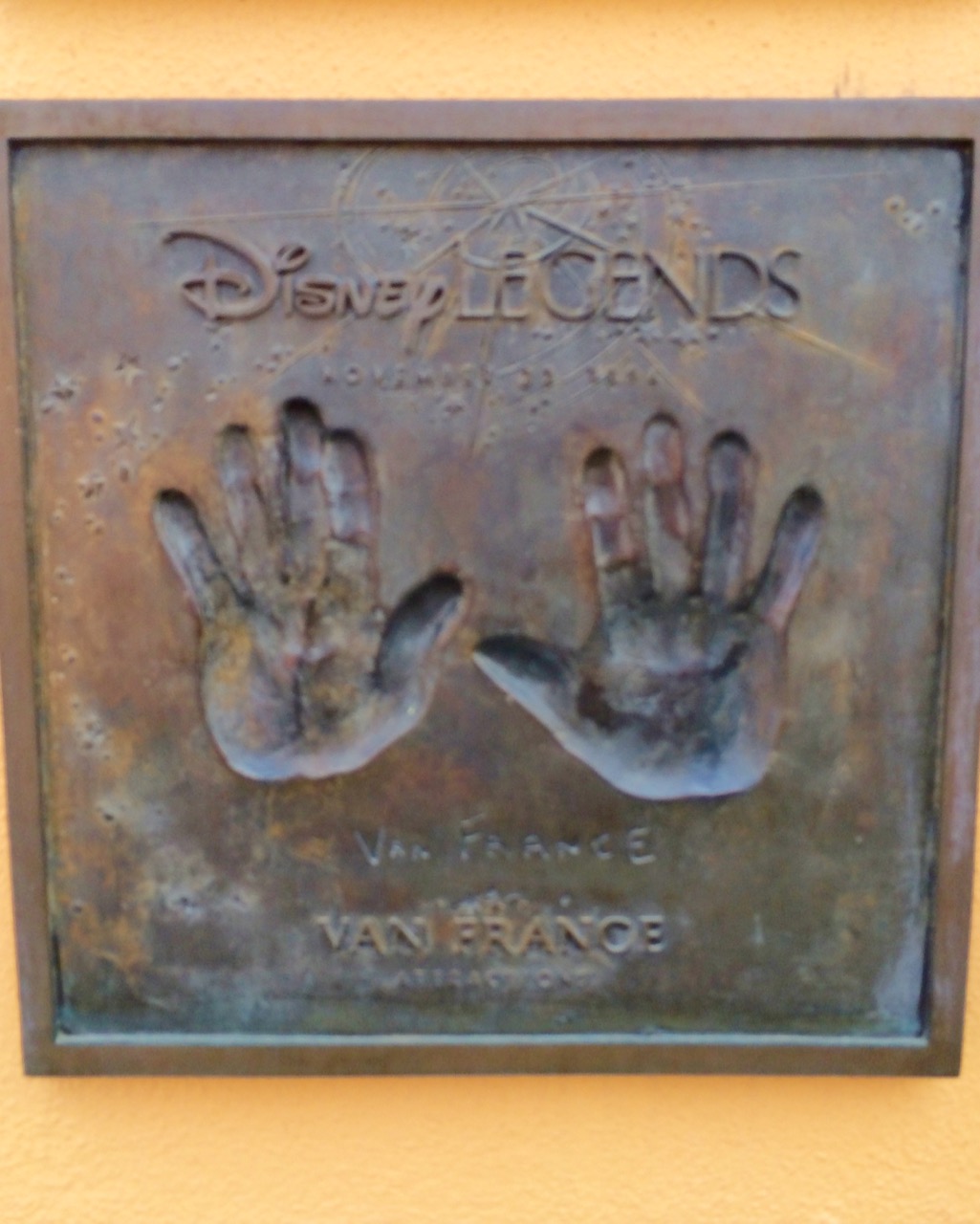 Each recipient also receives a small Disney Legends Award statue. That award has symbolism to it:
The Spiral stands for imagination and the power of an idea.
The Hand holds the gifts of skill, discipline and craftsmanship.
The Wand and  Star represent magic: the spark that is ignited when imagination and skill combine to create a new dream.
You can see a larger version of this when you visit Disneyland Paris: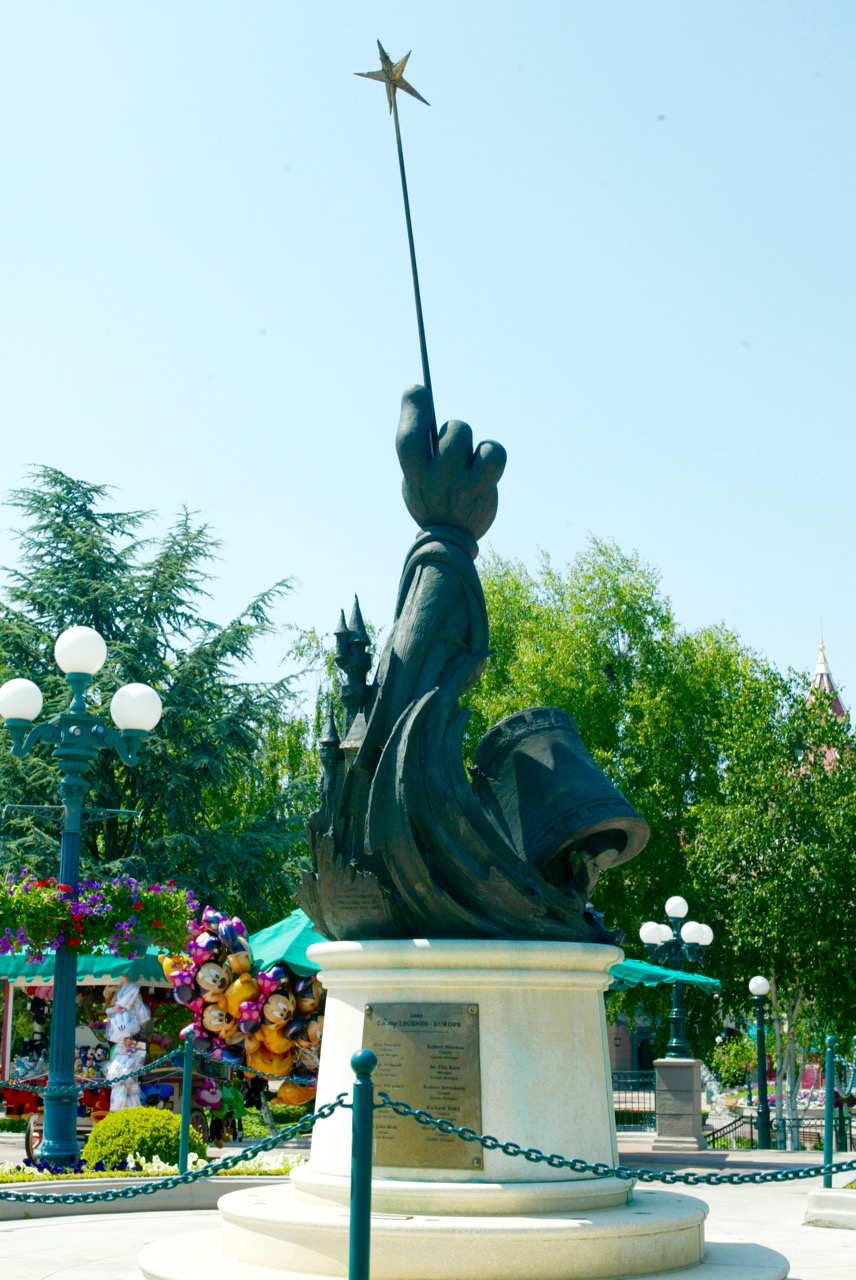 Windows on Main Street
This too is a Lifetime achievement award for those who contributed in some pioneering way to the Disney parks, though early leaders across the Disney organization are also memorialized, as the Disney Legends award did not come into play until 1987. Those honored are determined by corporate leadership and are only extended to individuals who have finally retired. Their window treatment typically appears as a fictitious business and often refers to their role or some hobby of theirs.
Below is such an example, highlighting Bill Sullivan and Bob Mathieson, former operational leaders at Walt Disney World.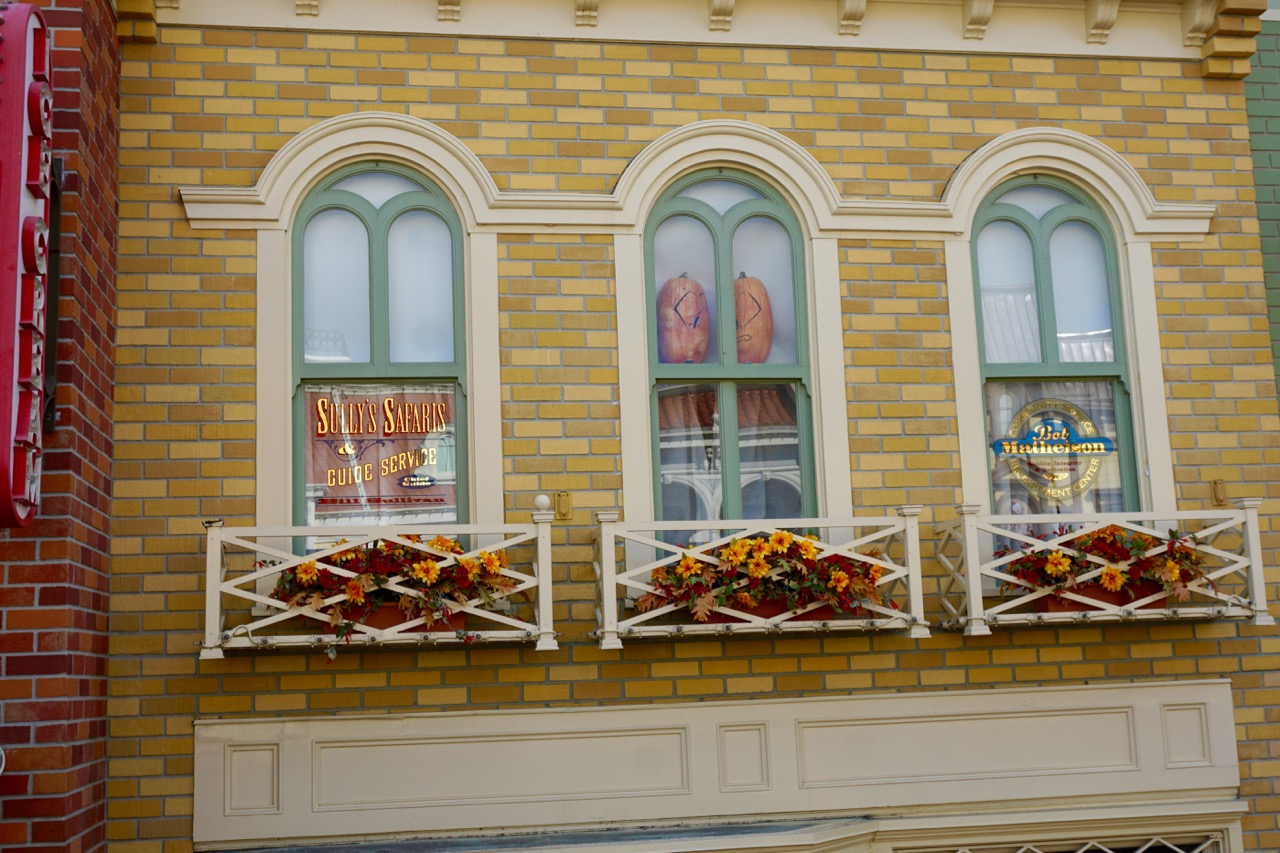 This one features Tom Nabbe, who started his career playing the role of Tom Sawyer at Disneyland. He would go on to open the monorail line when Walt Disney World opened and then continued several decades working with distribution.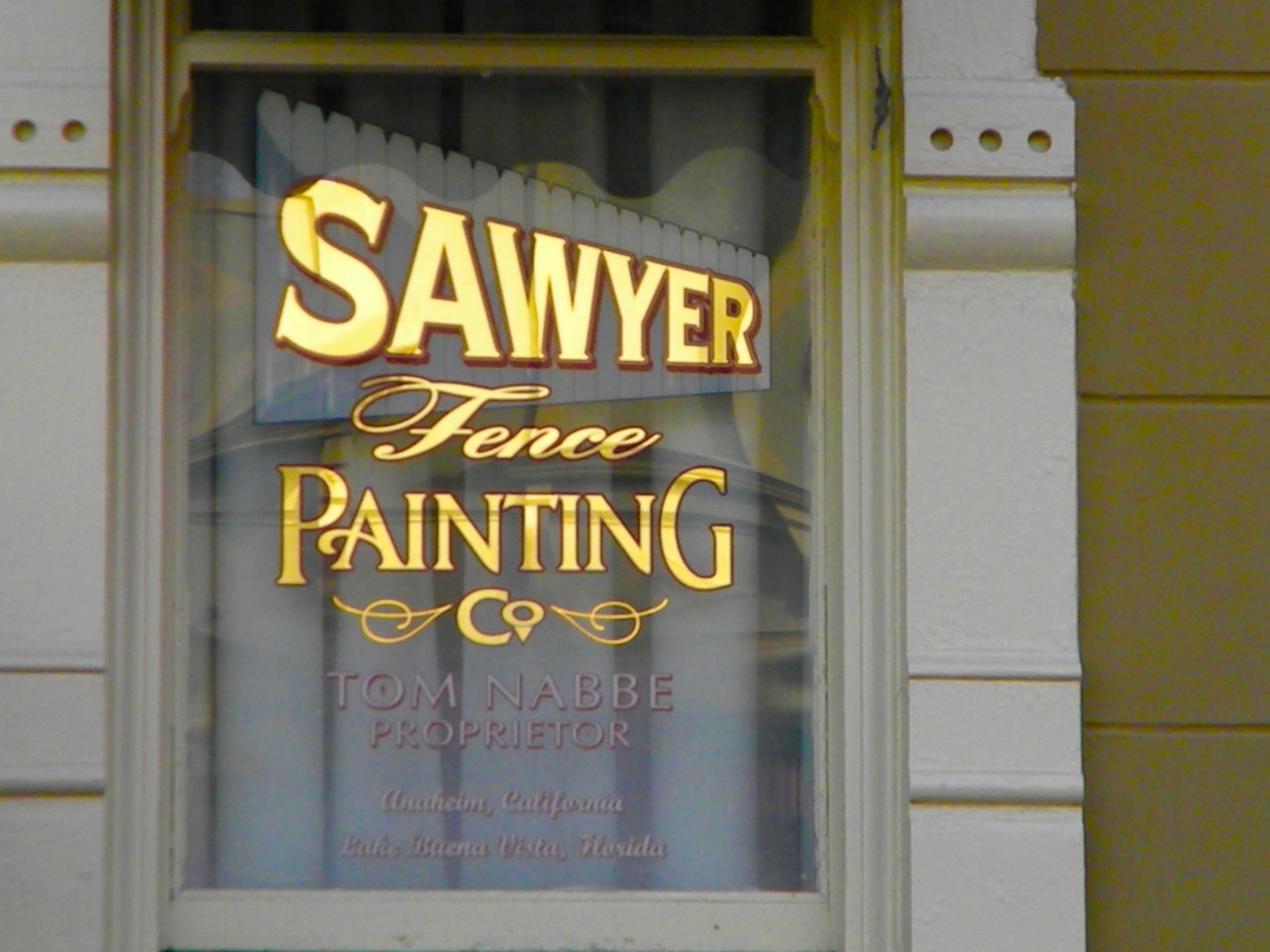 Windows on Main Street are probably the most well-known of all the forms of Disney recognition, but others exist as well. Let's take a look at the creative tributes you can find throughout Walt Disney World.
Other Park Tributes
Some who provide outstanding contributions to the work of the organization are recognized in other unique ways throughout the parks. For example, Harper Goff contributed greatly to the design of many of the original attractions at Disneyland and Walt Disney World. A major nod is given to him at Harper's Mill at the curve of the Rivers of America.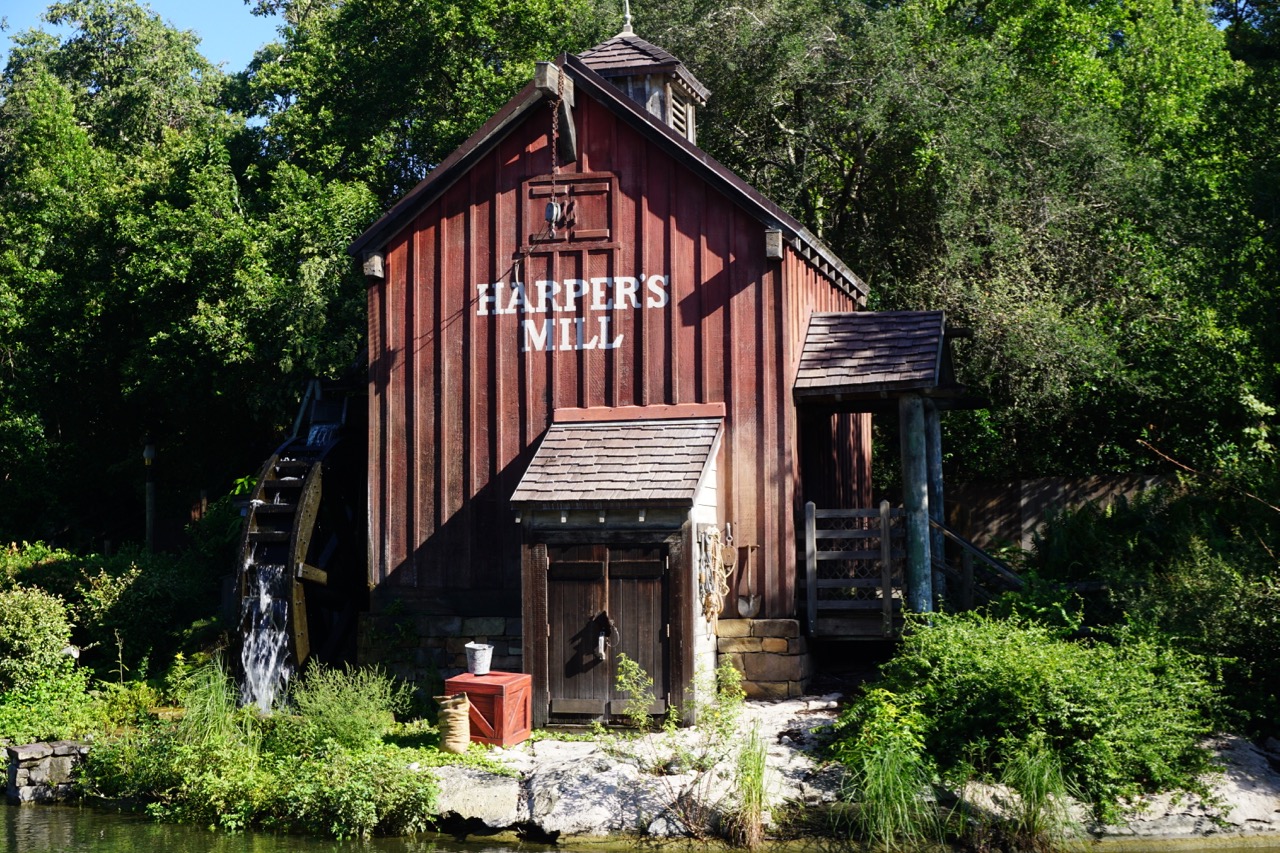 He actually has several tributes for his work throughout the parks. For instance, he also designed the famed submarine for the film, 20,000 Leagues Under the Sea. So when a building went up in the location of where that attraction once was at Walt Disney World, it seemed appropriate to again acknowledge him: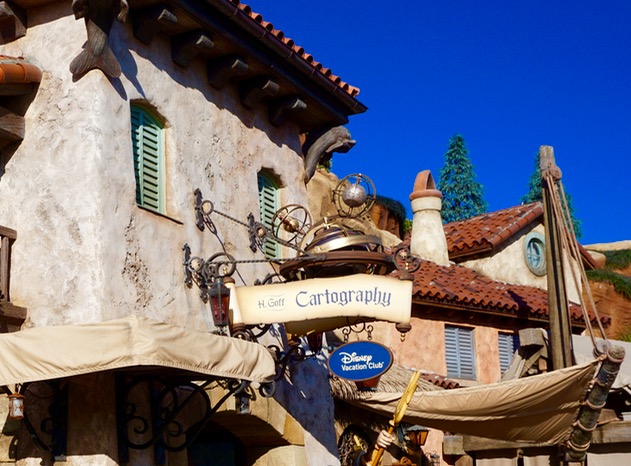 Many of these tributes largely feature Disney imagineers–but not all. In Bonjour Gifts next door in Fantasyland, you see a portrait of Phil Holmes, who served as vice president of Magic Kingdom for many years. Surrounding his image are any number of symbols known to those are familiar with all things Disney: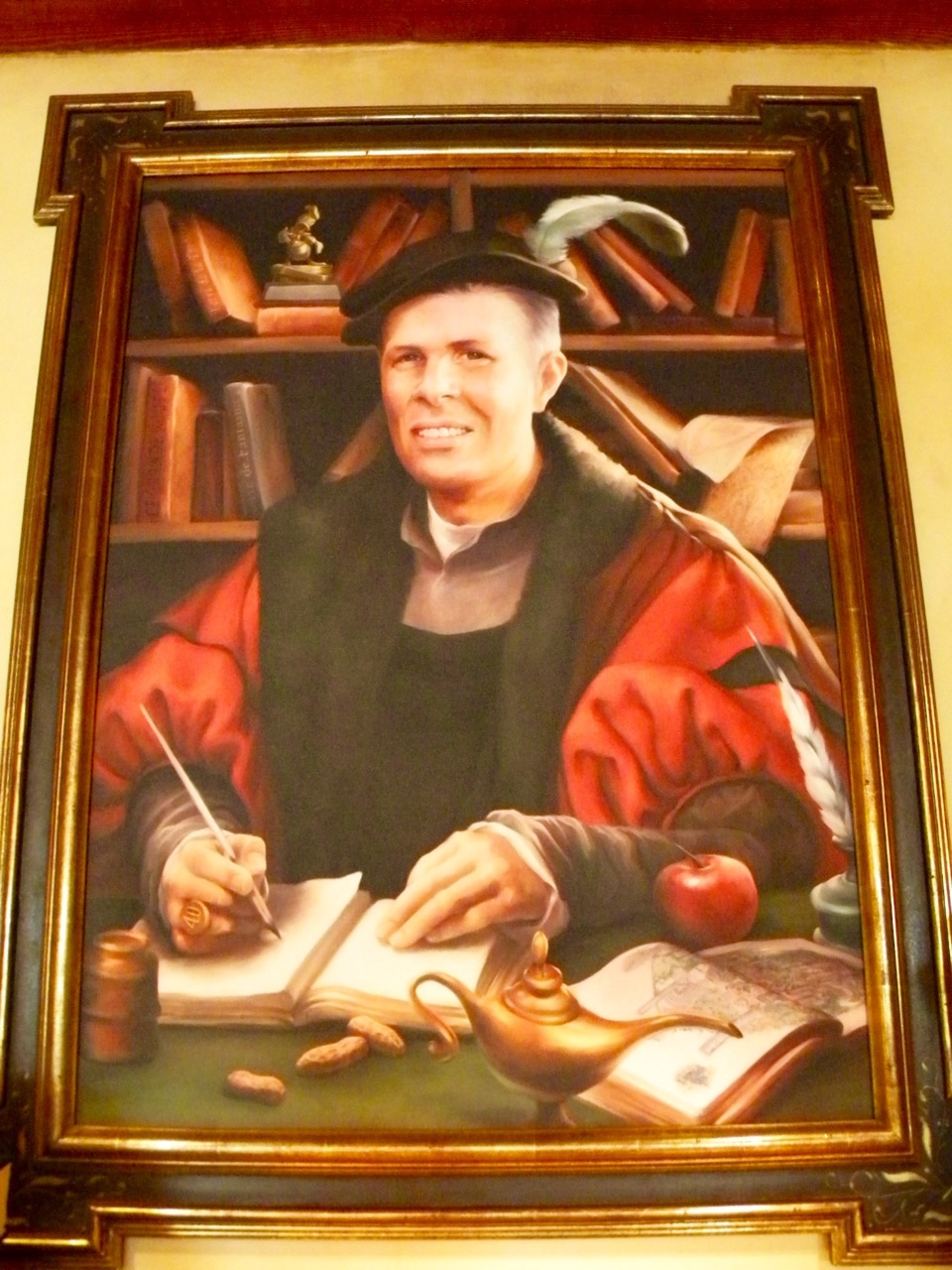 Then there's the most macabre recognition of all–tombstones at the Haunted Mansion in the Magic Kingdom honor a number of imagineers who played a role with that attraction:
Disney Legacy Award
Most of the forms of recognition noted so far are for senior, lifetime contributors. What about just the regular Cast at Walt Disney World? The highest honor to any Disney Cast Member is the Disney Legacy Award. It culminates in an annual award ceremony where peers recognize the best of the best within parks, cruise line and Imagineering. It's only for the organization's best performers. For example, from some 6,000 nominations worldwide, only 650 recipients received the reward in 2014.
Those who receive this award are first honored when their names are announced in individual team meetings.  Later on, they partake in a big evening celebration to mark the occasion where they receive a special, commemorative plaque. Here's a sense of the kind of celebration they experience:
Recipients also receive a blue name tag distinguishing them from others: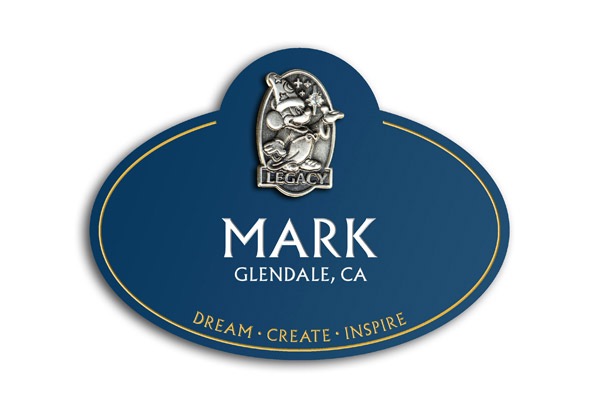 Note that this recognition effort is a descendant of Partners in Excellence, an earlier reward system, that recognized people based on a balanced scorecard performance in  three areas:
Providing great customer service
Supporting and engaging fellow employees
Helping to lower and reduce costs
Like the Disney Legacy Award, recipients were nominated by their peers. They received a big celebration, and took home a Partners statue–the same kind you see above in the Legacy Plaza. They also received a pin of the same image to place on their name tag.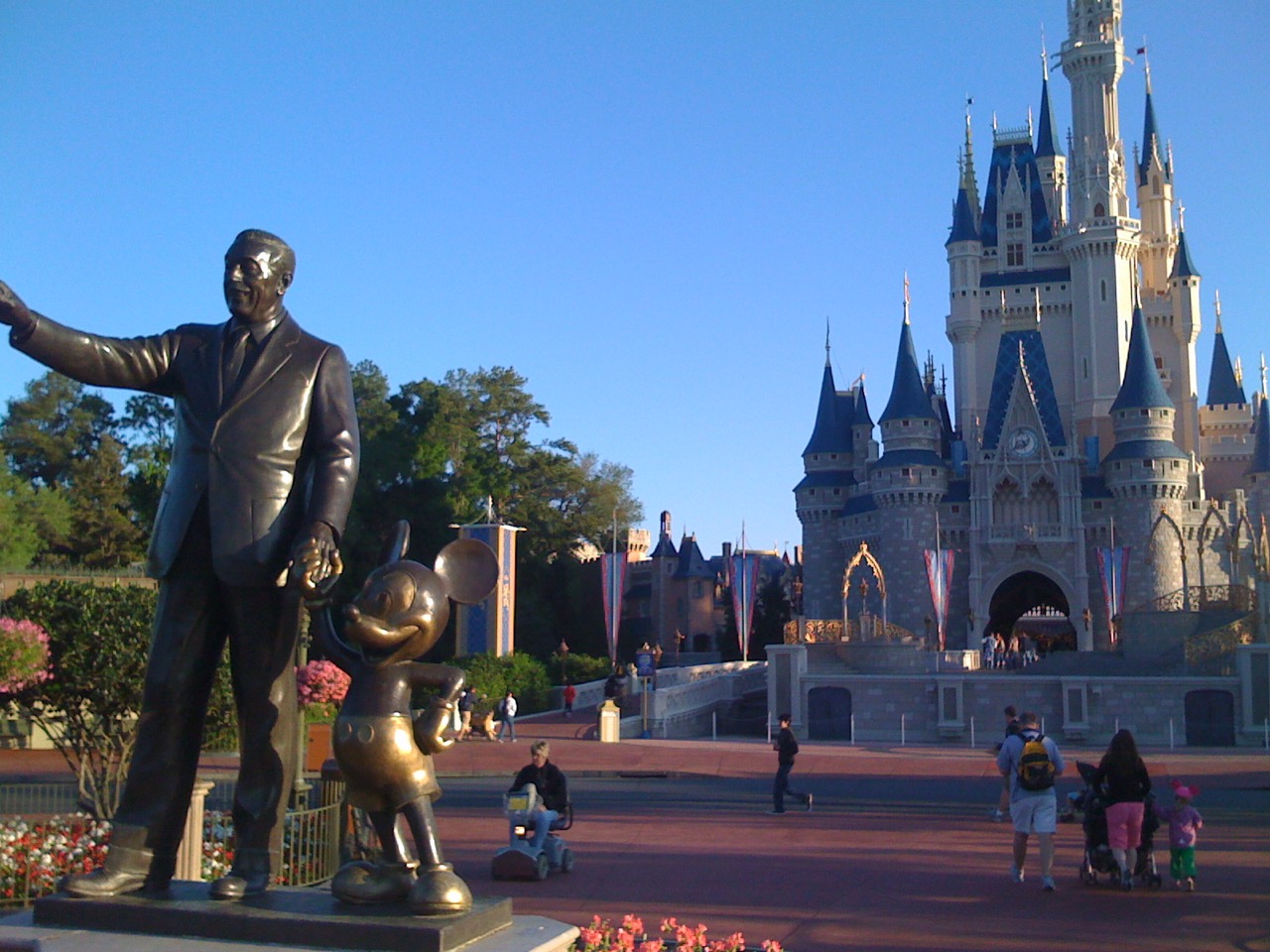 The challenge with this program is that they originally determined that you could only receive the award once. Yet over time, they ran out of people meeting the criteria to be honored, thus they changed the "once only" rule giving it to people who had received it already. But after a time or two of that, who wants the same award? So they created a new award–one that was more across the entire theme park operation, and not just Walt Disney World. And that's how the Disney Legacy Award came about.
Recognize Now!
Most of the rewards mentioned so far are more formal in nature. What about day-to-day recognition? What about more informal tools? Recognize Now! is an online tool that has been operating the last two years, with some 250,000 thank-yous sent. This electronic tool includes leader-reporting features. There are a few ways to recognize others:
Four Keys Card is recognition automatically posted to the record card of the cast member and is shared with the area to be included in a monthly drawing. The Four Keys are the primary guest service standards, and include Safety, Courtesy, Show and Efficiency.
Instant Appreciation—This is a personalized "Instant Appreciation" message. This is not tied directly to the Four Keys, but simply is a vehicle for saying thanks to others for going out of their way in helping someone.
We should mention that there is a sort of mascot and logo for this program: Russell and his Grape Soda Bottlecap Pin.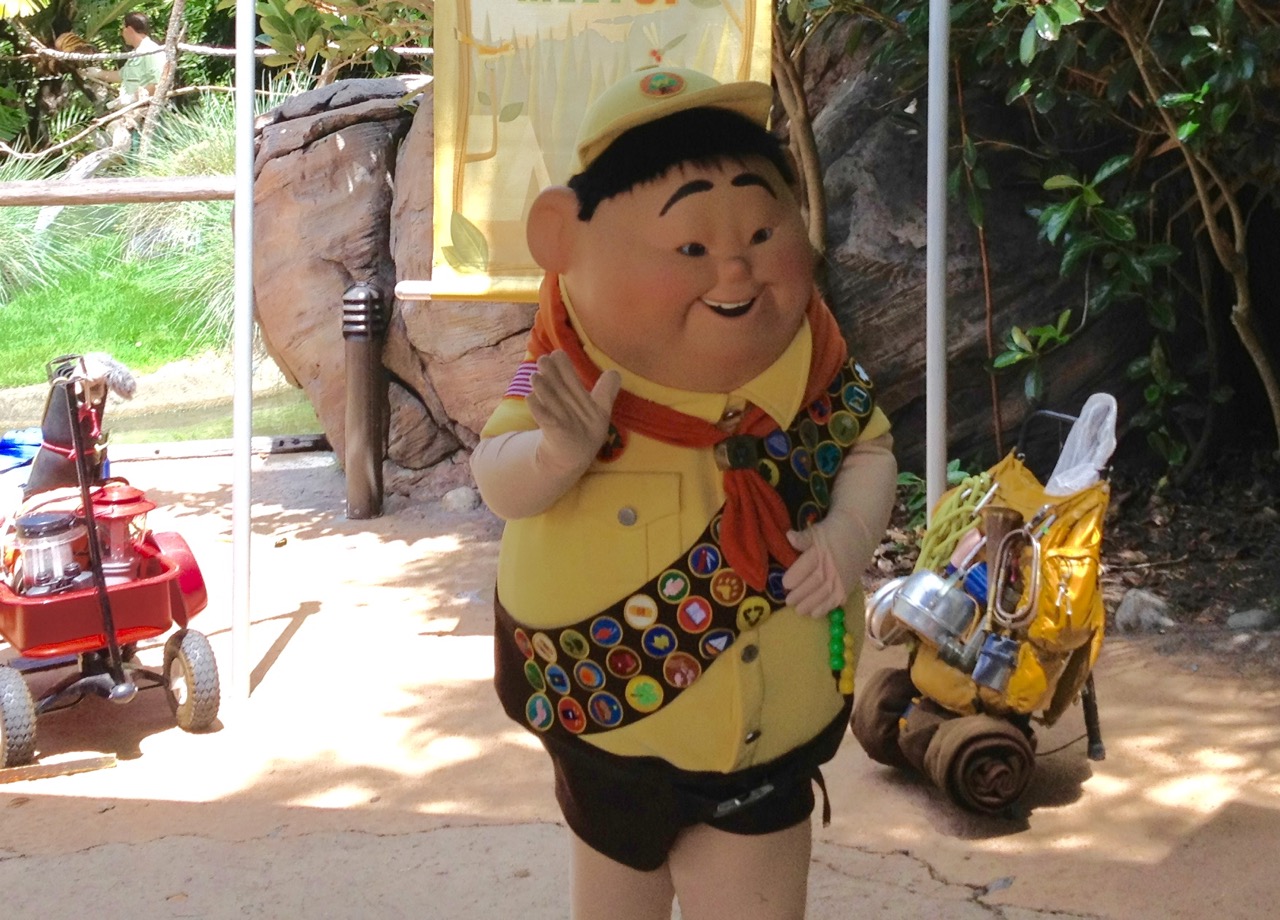 This online tool is only a few years old and serves to replace older paper tools such as the following:
Applause-O-Grams. Recognition to thank Cast Members who go above and beyond in their daily tasks. They could be nominated by Cast Members or by Guests. It utilized an Applause-O-Gram certificate.
 Guest Service Fanatic Awards. This was on-the-spot recognition for non-salaried on-stage and backstage Cast Members who consistently deliver great service. You filled out a card, and then dropped it into a box for a monthly drawing.
Excellence Awards. Spot awards to recognize and reward individuals and teams for outstanding contributions while demonstrating excellence. This often included a monetary award.
What set the Recognize Now! program from those just listed is that it's online, and allows those giving the reward to not only customize the certificate/card to the individual, but to place notice of that recognition permanently in the file of the individual. That practice was done before as well, but not as consistently.
Below is an actual award certificate that used to be handed out to outstanding Cast Members at Disney's Grand Floridian Resort & Spa. Notice that listed in yellow around the border are various recognitions provided by different departments at the resort.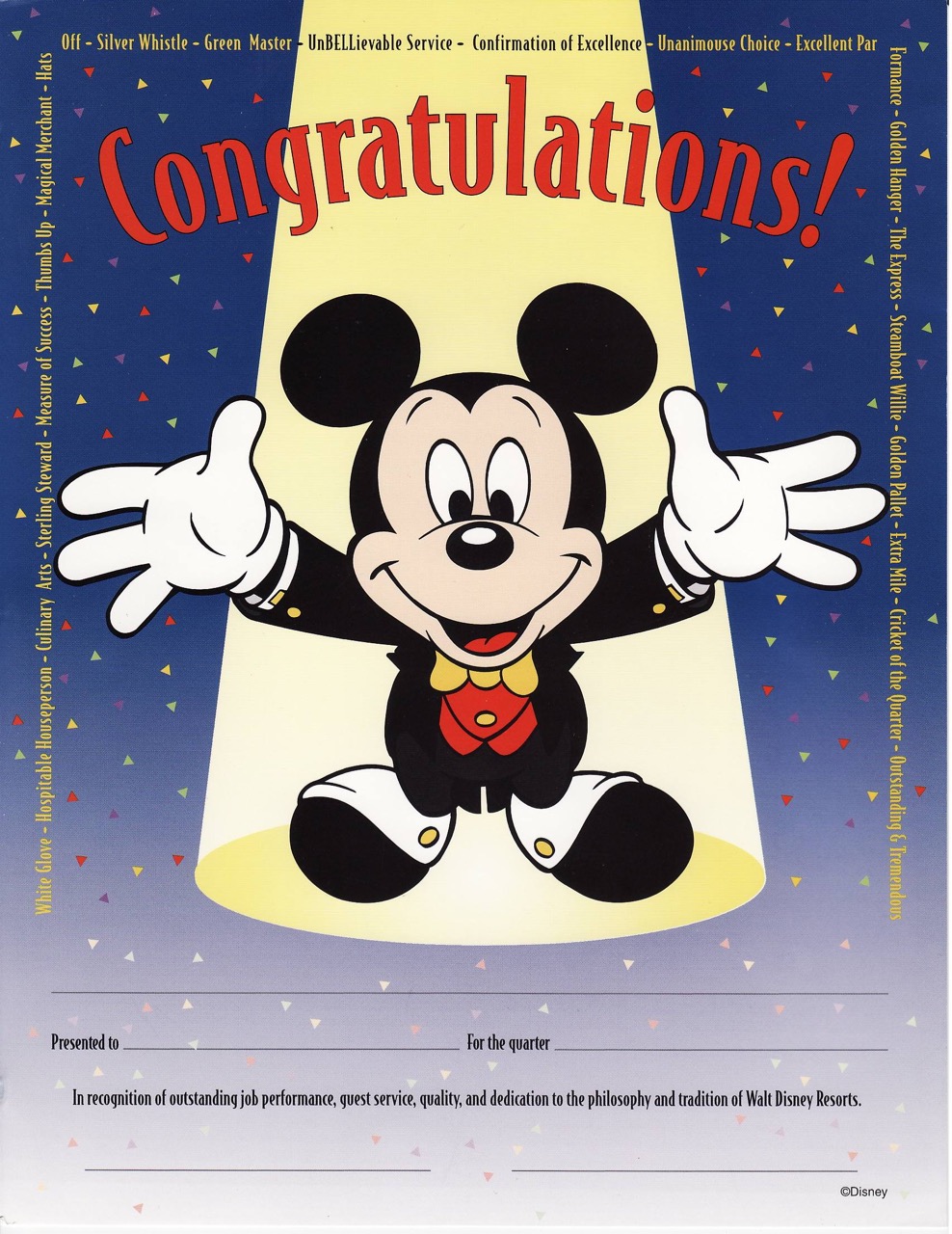 Other Awards
Additionally, there are a few other awards based on specific achievement:
R.A.V.E. Awards
These awards are presented annually to areas that have demonstrated outstanding commitment to achieving excellence in diversity by respecting, appreciating and valuing everyone. Individuals and areas are honored at an annual luncheon.
Environmental Excellence Award
Honors Cast Members who demonstrate outstanding efforts in recycling, waste minimization and conservation. These are done at the local level, and then are tiered up to the resort-wide level.
Individual Awards
Beyond this are any number area awards. These are generally more informal, and customized to the specific area. Individual teams can identify their own awards, as can entire operations such as a resort or theme park. For instance, the Magic Kingdom honors Cast Members taking the extra time to be safe. The Traveling Safety Cone is simply a small, decorated safety cone and the Cast Member gets to have their picture taken with it. It's simple, fun, but still emphasizes behaviors that are important to the organization's success.
Earning Outside Awards
By the way, Disney likes to be on the receiving end of rewards offered by those outside the organization.
Walt Disney Parks and Resorts was honored by Fast Company as the winner of the 2014 Innovation Design Award in the Experience category for MyMagic+ program at Walt Disney World
Conde Nast Traveler Readers named Disney Cruise Line as the number 1 large ship line in 2015.
Walt Disney Imagineering received the Lean Construction Institute's Highest Annual Pioneer Award in 2014.
Sometimes those moments of recognition come by surprise. But many times they are the culmination of an effort made by different segments of the resort.
Recognizing the Lessons Learned
There are a couple of important messages that can be learned about recognition. The biggest of these is that relatively little cost is usually involved in the actual recognition. Few of these involve some monetary award. That's not to say there aren't Cast Members who receive bonuses. But they alone are not enough to justify someone sacrificing 40 plus years to the Walt Disney World Company. A window on Main Street, however, is something that immortalizes you.
Here are some other key points from this:
You need formal and informal reward and recognition programs.
You need programs that are 360–meaning that there is a vehicle for anyone (employees, supervisors, customers, etc.) to recognize others.
Reward & recognition should be tied to performance–to what matters most in the organization.
Align the reward and recognition to your brand and culture.
Seek to be recognized by others.
Most focus on symbols of excellence rather than on monetary rewards.
Make it fun!
How's your recognition? What makes it unique? What do you do to make it a great part of working in your organization?