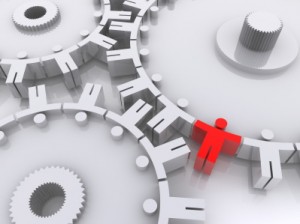 Ask yourself:
Are you struggling to bring people together who are never around?
Are you perplexed trying to fill the weak gaps in your group?
Do you accomplish projects, but find yourself drained by key individuals you had to work with?
Do you find you're manipulating others in order to reach team consensus?
Is the common enemy that brings you together as a team the very people you must work with to get the job done?
Do you wonder what everyone else is doing to make his or her team more successful?
We provide critical content–even thought leadership around the following team building ideas:
Leading vs. Managing Teams. Learn the tools of influence that allow members of a team to all emerge as leaders that hold themselves accountable in attaining results.
Building on Strengths. We focus on building on one's strengths rather than picking on one's weaknesses.
Collaborating for Results. What are the ingredients for collaboration? How does collaboration differ from simply getting along? Learn how to work across teams to accomplish the kind of shared results that build success.
Seeking Collaboration, Not Competition. There's a time and place for competition. But we'll also show you how working from an abundance mentality can yield greater results.
Establishing an Affiliation/Achievement Culture. It's not just about working together. And it's not just about attaining results. It's about effectively working together to achieve high performance. We'll look at creating a culture for doing just that.
Breaking Team Barriers. Acknowledge the challenges and create solutions for getting past the road blocks that keep teams from attaining their potential.
Programs 
We offer you many flexible options for your next team building event. We work hard to earn our reputation of innovative and fully-engaging experiences. Here's just a sample:
Lights! Camera! Action–Starring Your Team. This creative team building program brings out the performance in everyone. Utilize available conference space at your hotel, or we can provide an actual theater for use. Either way, we involve participants in a variety of theatrical and improvisational exercises that focus on team dynamics.
Team Olympics! This set of competitive events will allow teams to compete with one another in a variety of engaging and interactive low rope events. Using indoor or outdoor space at a location of your choosing, we lead your teams in participating in a variety of relays and one-of-a-kind events.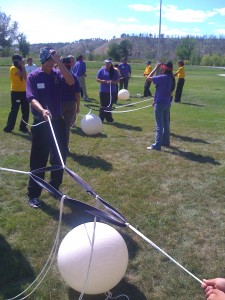 RadioActivity! This radio broadcasting team event involves a wide range of collaborative and fun activities. The result is a collaborative 30-60 second live radio commercial that delivers a powerful message about working together as teams.
Coming to Orlando? When hosting your event in Central Florida, consider the following team building events for your next conference:
Orlando Discoveries: TeamBuilding Events in Central Florida's Best Theme Parks! Immerse your team in a one-of-a-kind adventure that will lead organized teams to unlock clues along their park experience while discovering new and innovative ways to improve their own organization. With Discovery Guides in hand, participants will choose where they want to go in the park and which attractions they want to enjoy. As they do so, they encounter answers to clues that will develop conversations about how to improve organizational performance.
These experiences can be hosted at any of the four Walt Disney World parks, SeaWorld and both Universal Studios theme parks. Whatever you choose, give your team the opportunity of a lifetime to engage in an experience that they will apply throughout their life.
The Great Culinary Challenge. Join us with the chefs and culinary experts of the Rosen School of Hospitality Management. Here, teams are assigned to create kitchen masterpiece in working, industrial kitchens. Your hosts are actual chefs who will guide your creative works. Four "courses" or stages of activity will take participants from set up to cooking  "mystery ingredients" and then on to eating and debrief.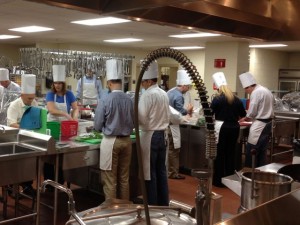 In summary, whether you are heading to Orlando, or whether we come to you, you'll find exciting ways to build teamwork in your organization.